NOVA4CHILDREN: COLLECTION OF DONATIONS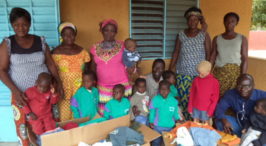 With the encouragement of Novalliance director Ronan Gorin, several team members of the Group, wishing to offer a contribution to African children, founded the Nova4Children organization in 2015. The members collect only in-kind donations (school supplies, books, toys, clothing, etc.), which they accept and sort before sending them to partner organizations located in Africa (Burkina Faso, Cameroon, Congo, and Senegal) via Technisem seed containers. The donations come from individuals, companies, and organizations that wish to participate in this initiative and are then distributed to orphanages, many of them located in the bush. In 2017, 230 boxes were distributed in over 20 orphanages.
"This initiative gives us the feeling of being useful and accomplishing something essential for the orphans' well-being," says Lisa Moreau, the organization's president.